Map Design Pro Series
Illustrating and inspiring 'the art of the possible' with thematic Mapbox map campaign.
Designers are often the change agents that align products, business needs, and user satisfaction.

The CEO asked me to push the notion of map design "beyond the default" with an inspiring series of well-designed map styles. To show that maps are not just predefined Google images but can be custom designs fitted into the context of any brand or product imaginable.


MY ROLE

This was one of my first solo projects at Mapbox. I was asked to do a thing, but there was no one managing the details of how and why and what. There was no client for the deliverable and the only integration was to post on our blog.

It was my first opportunity to establish a process and pull in other teammates and resources as needed; managing all deliverables. I learned that in absence of a process, timeline, and constraints; you should always define them for yourself and deliver against them.

PROCESS

For this series, I wanted to keep it simple but consistent. The main steps in my process were: theme definition; which included theme, research, and key map data features, also build; which included making the map style, writing content for blog post, and creating imagery for blog and social media; and finally promotion; the time shipping all the elements I've designed, created, and collected as well as getting others to help promote the post.


FINAL SERIES

Below are the final map styles created for the series.
Blueprint
Inspired by U.S.S. Enterprise NCC-1701-D blueprint schematics, I designed the Blueprint map style. Eager to test the latest version of Mapbox Studio, my style took full advantage of the new Mapbox GL renderer which allowed from better font and labeling coverage over zoom levels. Since I love design constraints, I limited my color palette to three shades of blue and a single typeface, FF Kievit.
Read more.
Swiss ski
Traditional ski maps feature steep slopes, ski and snowboard routes over a contour heavy topographic base. The topography creates a detailed visualization of depth of the natural features in the terrain. Inspired by Swisstopo maps, this style highlights elevation contour lines along with specific ski features such as gondolas, chair lifts, and piste paths.
Read more.
Vintage
Vintage maps typically include detailed depth styling on the oceans and bodies of water surrounding the continents. This is bathymetry; the measurement of the depth of water in oceans, seas, and lakes. The same way that topographic maps represent three-dimensional features of overland terrain, bathymetric maps illustrate the land that lies underwater. A feature I highlighted in this map style.
Read more.
Whaam!
Drawing inspiration from the likes of Andy Warhol, James Rosenquist, and Roy Lichtenstein,
Whaam!
is a unique base map for telling your story with spunk. The use of primary and secondary RGBs hint at traditional printing variations for a vibrant and playful visual read. My pairing of small, dark cyan dots closely spaced over a solid, light cyan background gives the viewer the slight optical illusion as they zoom into the map, in true pop art fashion.
Read more.
LA Terrain
This map style was inspired by my first trip to LA. I've flown many times from the East Coast to Pacific Northwest, but this was my first to Southern California. The Grand Canyon, Navajo Nation Reservations, thinly populated deserts and mountains in San Bernardino County; all inspired this vision. I wanted this style to capture desert and mountain-scapes from the window seat.
Read more
and hear
podcast interview.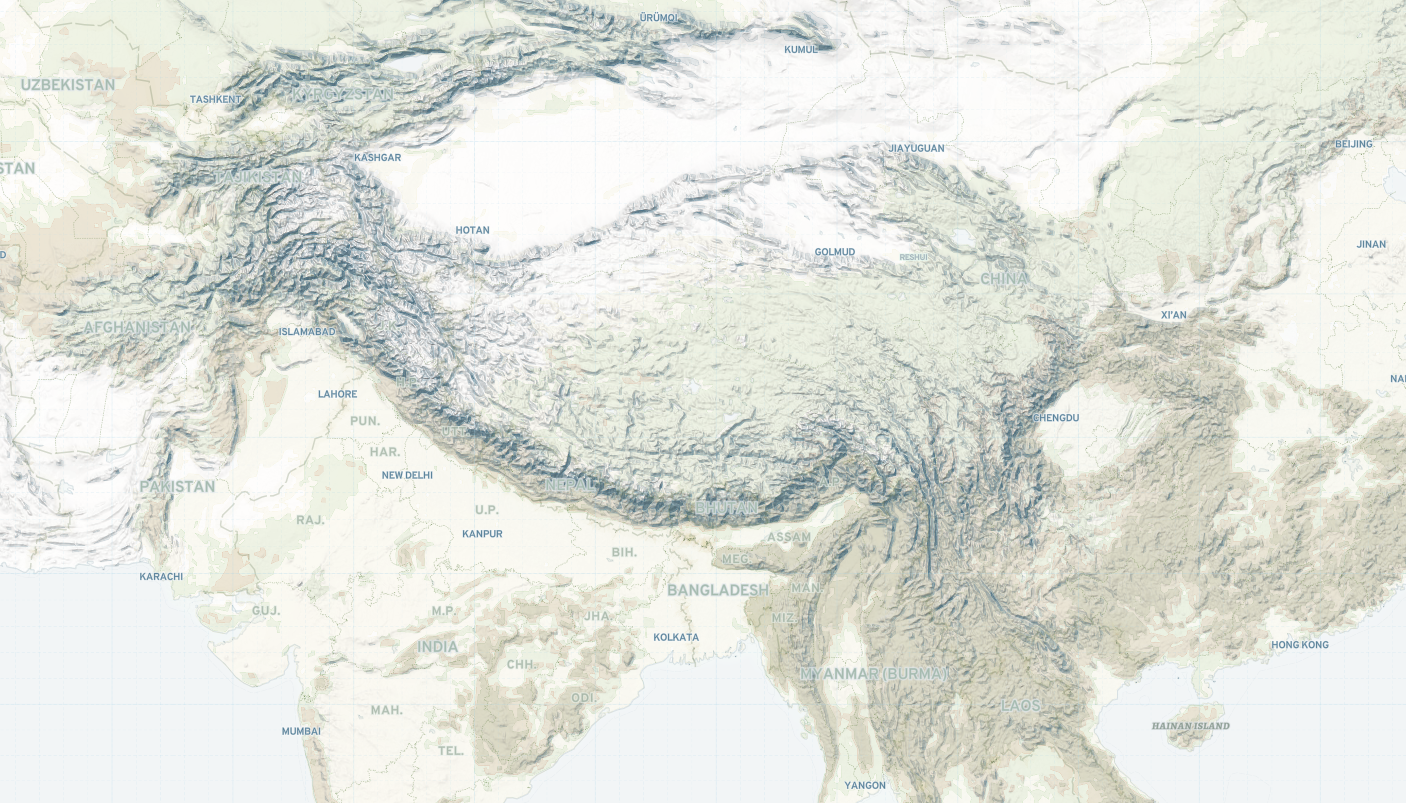 SUCCESS MEASUREMENTS

While it's difficult to measure activation and acquisition from map styles. I can say these maps became the stables for "Map Design" in modern web mapping spaces.

When the first one was released, a user requested I share the JSON file online for the design. This lead to over a dozen re-mixes for the styles also shared online.

Whaam! was featured in Wired magazine, as well as the Atlas for Map Design II, and was used for the Spot app, a Japanese Walkie Talkie mobile app. LA Terrain was featured on a podcast and the process was a feature in the Guide to Map Design.


Portfolio of Amy Lee Walton